Traversing a Twisted Path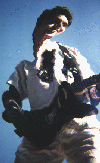 ---
Traversing a Twisted Path T-shirt

The front of the T-shirt is almost like the CD cover---it contains the TWISTED HELICES logo with the name of the band on top and the name of the album on the bottom. The back of the T-shirt contains the band www page address. The material is 100% cotton and the size is extra-large (XL).
The cost of the T-shirt is $10 + shipping.
---
Taquinho, from the band Nothingface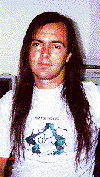 If you want your picture here, either snail mail me a photo or e-mail me the scanned image!
---
TWISTED HELICES
||
Ram Samudrala
||
ram@twisted-helices.com
---