Woodstock 1994

---
History was not only recreated, but also significantly enhanced, on August 12, 13, and 14 at the Woodstock 1994 festival held in Saugerties, NY. 30+ bands: every single one played their hearts out and put on great performances. Mud: there was tons of it and people simply wallowed in it. People: Les Claypool (Primus' lead singer) described it aptly when he said "I am not very good with numbers; I can tell there's a shitload of people here." Powertripping security overwhelmed! What an event! I sit here trying to describe what exactly happened in the hopes of giving people who weren't there a feel for the experience, and invoking vivid memories for those were. All I can seem to come up with are blanket superlatives, informationless adjectives, and standard cliches. Yet I try, for it was the greatest rock 'n' roll party ever.
And on the third day, we still rocked...

Green Day's performance on stage was undoubtedly the best, visually. A punk band, I don't think their music is anything spectacular compared to the innovative punk along the lines of the Levellers and Fugazi. In fact, they are so stereotypically punk that it almost seems like they are parodying it: the lead singer and drummer had brightly coloured blue and green hair and their lyrics are whiny. But they were tireless on stage and pushed the momentum to its limits. The best thing about their show was that they had a mud fight on stage with the audience. The first mud pack was thrown at vocalist Billy Joe Armstrong. He promptly caught it and put it in his mouth. This simply encouraged people to throw more! The crew of the band came on stage and started throwing stuff back. Wavy Gravy, the announcer for the South stage, also followed suit by doing the same thing (throwing mud back and eating it).
Things got really out of control as audience members climbed up on stage and security people tried to stop them. It was a futile effort; there was total and utter chaos. One little kid ran on to the stage, hugged Armstrong, and started running away, but the singer chased after him and brought him back to sing a few lines! I bet that made that kid's day. Running around on stage had its problems however, as bassist Mike Dirnt discovered. As the show ended, the security people mistook Dirnt running around for one of the stage crashers and tried to kick him out, very much against his insistence that he belonged to the band:

"Hey man! I'm the bassist!"
"Yeah right, we've heard that one before."
 Dirnt being kicked out by the Peace Patrol?

It was the most out-of-control show I saw, yet nothing violent happened and the security people and the audience made peace afterward (though I hear Dirnt lost 3 of his teeth). Their set consisted of songs from their latest release Dookie, such as Burn Out, Chump, Long View, Welcome to Paradise, Pulling Teeth, When I Come Around, and Basket Case.
Before seeing Green Day however, we had to spend around 3 hours listening to the WOMAD performers. I say "we had to" because it seemed to take forever---they were listed as one group, but it was actually a whole slew of perfomers including Xalem, the Justin Trio, Geoffrey Oryema (who was truly brilliant), and Hassan Hakmoun. The crowd didn't think much of them and when one of the performers asked people to sing along with him, the chant that was heard was "Green Day!" Wavy Gravy and Peter Gabriel had to ask the crowd to show some respect, but that request went unheeded. The wait was made worthwhile during Hakmoun's performance, when Peter Gabriel joined him on stage and sung a couple of songs with the troupe.

After the Green Day show, people tried to get back to the North stage, except that there was a fence around the concert area and it slowed things down. In a spectacular moment of cooperation, the people (including me) at the fence yelled: "everyone step back!" and the whole crowd stepped back in unision. The fence was down in a minute.

Contrast this behaviour to what happens when people in front are getting crushed and the audience is asked to step back: no one does. I guess we have our priorities straight, eh?
As I walked away, I could hear the Paul Rodgers band (who I chose to miss since Brian May from Queen didn't show) with Slash as the guitarist and Jason Bonham as the drummer covering Bad Company tunes. They sounded pretty good! One of themes of the festival was "feel like making love."
Taking down the fence paved the way for me to get something to eat and then I rushed to the North stage in order to catch the Spin Doctors. Again, this was an example of a group I don't really like, but someone who put on a good show. They said it was the largest crowd they had ever played in front of, and I think this holds true for most performers there. The lead singer was funny when he tried to do acrobatics on stage (like tumbling and jumping high) and failed clumsily. The crowd really got into them as they finished up with Two Princes.
After the Spin Doctors, it was Perry Farrell and

Porno for Pyros, who put on one of the better performances. They played a lot of stuff from their self-titled album, including Porno for Pyros and Sadness. Two scantily clad female dancers on stage, who were really erotic, made out with each other during the performance. A female acrobat spiced up an already quirky show.
Perry Farrell got my attention when he started talking about crop circles. I thought he would then start talking about UFOs, but instead he talked about Chaos which I thought was truly brilliant, since it is believed that crop circles are an instance of chaotic behaviour in natural systems (yes, some education for the crowd here). He ended up by saying "Chaos is beautiful". Amen.
Bob Dylan was simply amazing! He was 1.5 hours late but it was worth the wait. He came on stage, and jammed his stuff in an irreverent manner (including tunes like All along the Watch Tower, Highway 61, Masters of War, Don't think Twice, and It's all Right) and walked out. No "hello" or "thank you". I was only tangentially familiar with his music before I saw him live, but he got everyone rocking and his guitar playing was what stood out the most. He was one of two surprises for me at the festival in terms of how good he was (the other was Aerosmith). People were even moshing and crowd surfing to him! Heck, people were moshing and crowd surfing when there was no music being played!
The crowd roared when he sang "everybody must get stoned." There was tons of drugs floating around, ranging from marijuana to various coloured versions of acid. I was offered to try some out, but I declined). The girl behind me during the entire Sunday night show was tripping. She was one of the people who lived across the river and got in for free and I bet her entire experience was living in the "peace and love" dream (mine was all about the music).
A few

lightbulbs appeared on stage and they weren't dim-bulbs either! Red Hot Chili Peppers really livened up what must've been a tired crowd with their lightbulb costumes (which they took off after the first couple of tunes) and their charismatic funky sound. Another theme for the festival was "give it away" which happened a lot when water bottles were thrown from the TV towers (which was where I hung out most of the time), food was shared, and a helping hand was given whenever needed. People showed concern when I cut my leg (I was barefoot) on a piece of glass and when I had to crouch down for a minute with my flashlight in order to get rid of the piece of glass.
The Chili Peppers came back for an encore dressed in white, Jimi Hendrix-style, complete with Afros, and a little girl (Flea's Daughter) sang the first minute of the national anthem.
The strains of Zaar heralded the arrival of

Peter Gabriel, who put on the best performance both visually and musically. He played exactly the same set that he did at the WOMAD concert (Talk to me, San Jacinto, Solsbury Hill, Shaking the Tree, Sledgehammer, Steam, and Digging in the Dirt.) but he seemed to put a bit more effort into this one. This was the last performance and the crowd was a bit tired, but they still cheered when he said "this is your woodstock, this is your mud."
It was incredible to listen to the crowd chanting "In Your Eyes" at around 1a in the morning with thousands and thousands of brightly-lit candles waving around. The flashing lights and the light patterns created by his massive floating light projector, the steam coming out in front of the stage, and the entire field brightly lit due to the candles was a spectacular sight! The encore was a bit extended as the crowd chanted along to Biko. The daring and innovative performance is the reason why Gabriel was the headliner for the entire show.

"All my instincts, they return. 
 The grand facade, so soon will burn. 
 Without a noise, without my pride, 
 I reach out from the inside."
      ---Peter Gabriel, In Your Eyes

On the second day, we rocked even more...
The festival appropriately was renamed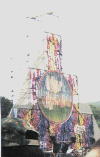 Mudstock when the thunderstorms came Saturday afternoon. I had to go across the North stage in order to get to the Wiz so I could get a couple of disposable cameras to capture this event on film (and you can see the evidence here). It took me a couple of hours to get back and forth, during which I managed to see Joe Cocker (who is the person on the screen in the second crowd picture shown up at the top), who really worked up the crowd for the rest of the day with tunes like Feeling Alright, When the Night Comes, You are so Beautiful, and Up Where We Belong. Before he did the classic With a little help from my Friends, he said "everyone needs some to get through the night and day" and I am greatly indebted to everyone who helped me out (including my camping partners, Adam and Fritz). Cocker: "See you in 2019!"
Next on line was Blind Melon who also put on a great show. Vocalist

Shannon Hoon resembled Joplin a lot, complete with a white dress and barrettes. After their show, Tom Arnold of True Lies was one of the surprise guests there. He introduced his costar Arnold Schwarznegger, who turned out be Chris Farley from SNL flexing his muscles.
Cypress Hill were next and the singer smoked a joint on stage for all the people getting high. Pigs was definitely a popular tune among the crowd; even I was amazed at the crowd response for this tune. One Saturday Night Live writer said they probably had the best message among all the Saturday bands. They were one of the few bands actually promoting aggression. The singer remarked that the sight he saw when he flew down was amazing.
Henry Rollins' tattooed body was the object of admiration by many. The tight-fisted renditions of songs such as Step Back, Alien Blueprint, Liar and Disconnect (all from the album Weight) really worked up the crowd. Rollins was strongly anti-drug and anti-alcohol and this surprised a lot of people, but he's amazingly clean cut, even though he doesn't appear so. Nihilism mixed with reason: another theme for the fest.
I was busy navigating my way across to the South stage during Rollins' performance in order to catch Primus and thus I sacrificed seeing Melissa Etheridge and CSN live in order to see Primus perform, but I made up for it by seeing their videos Saturday night. One of the things that characterises Etheridge is her low growl which would greatly complement Rollins'. Etheridge is no Joplin, but she did do a good cover of Piece of My Heart. I was ecstatic when I heard her perform Like the Way I Do, which is my favourite tune by her.
I was totally unfamiliar with the Band (whose members included people from the Dead (Bob Weir) and Jefferson Airplane (Jorma Kaukonen and Jack Casady)), but it was great watching them. They played so many tunes I was familiar with. They covered Springsteen's Atlantic City and Dylan's Knocking on Heaven's Door. The Band consisted of Bruce Hornsby on the keyboards, Roger McGuinn (exByrd), Hot Tuna, John Sebastian, and Country Joe McDonald (who played rock and soul music). Other tunes included The Weight, I don't want to Hang up my Rock 'n' Roll Shoes, Life is a Carnival, and Hand Jive.
The Band's vocalist was really impressed with the festival and repeatedly said this festival was a lot better than the Woodstock 1969 one (which he was there for). And this is true, since the other festival didn't have water and food all around: I never had problems with food and it was quite cheap---I spent $5 on 2 hot dogs which was a decent meal. Pepsi? Well, I drank a lot of water and on my way back to the buses, I was offered free food and drink, but I turned it down since I didn't feel like carrying it! Commercialisation? Not a whole lot---in fact, I am happy there was some provider giving us food whenever we need it. I am happy for the toilets and the fact they were cleaned regularly. The Peace Patrol were really cool people (except for a small fringe who always try to ruin it for others with their power tripping), just like you and me, who were simply hired just for this festival. In fact, the whole festival was manned by students and other youngsters who were not professionals of any sort and simply agreed to work for a free ticket and extra spending money. I got into an altercation with one of the professional security people and his behaviour was completely different compared to the people wearing the Peace Patrol shirts. I appreciate some of the crowd support on this and while I hope this guy was having a bad day and is having a good life, what goes around...
Rick Danko, the bassist for the Band, at the end, played some very funky stuff, which would've given Claypool a run for this money. It was interesting that as the Band finished, a really younger crowd started seeping in to await the arrival of Primus and they jammed to the Band. I made my way up to the front row.
Musically,

Primus was the best band of the festival, and they had the privilege of looking over the largest mosh pit I've ever seen. The pit extended all the way back and beyond the soundboard and it wasn't like there was pockets of moshing---every single person was slamming (contrast this to NIN's pit, which only extended back to the camera towers). Claypool was amazed at the crowd and encouraged everyone to do a wave just so he could see what it would be like. They started off by playing a couple of their old tunes (pre-Sailing the Seas of Cheese: To Defy the Laws of Tradition and one other) and I hardly got to listen to them since I was busy trying to keep myself from getting hurt. This is one of the reasons I dislike

moshing and crowdsurfing, because if you really like a band and want to listen to their music, it's impossible to be up in the front. And I don't believe any mosher who claims they can listen and mosh at the same time. I will admit though, that Primus' music, starting off slow and suddenly pounding in violently, makes for a great mosh pit.
Claypool was dressed in a shirt that resembled the U.S. flag, wearing dark glasses and sporting sideburns. Tunes from Pork Soda included Bob, The Air is getting Slippery, Nature Boy, and My Name is Mud. When the latter tune was played, people started throwing mud on stage! Claypool immediately stopped the show and said (as he has before) "people who throw things on stage have small penises." Contrast this to Green Day's attitude. Still, a mud fight among audience members ensued. Tunes from Sailing the Seas of Cheese were Jerry was a Racecar Driver, Damned Blue-Collar Tweekers, Here Come the Bastards (Claypool said something about joining him and guitarist Larry LaLonde in being a bastard), and the title track.
They also played some new stuff (Claypool said something about "old stuff being boring") and a bass-drenched version of the Star Spangled Banner. In what was one of the coolest encores at the festival, they came back and slammed out a minute of Metallica's Master of Puppets. What a band! Their set was too short as far as I was concerned.

"When the going gets tough and the stomach acids flow. 
 The cold wind of conformity is nipping at your nose.
 Some trendy new atrocity brings you to your knees.
 Come with us and we'll sail the seas of cheese."
                 ---Primus, Sailing the Seas of Cheese

I made my way back just in time for Nine Inch Nails' electrifying performance, by far the most aggressive one. Again, I do not like NIN's music: I think Trent Reznor doesn't have a single original idea in his head. For all the crap about being an "industrial" band, NIN rely heavily on the melody which backgrounds their songs, and this is why they are so popular among the mainstream. Reznor never is abrasive enough, even though that is the impression he projects and people who want this watered-down abrasiveness go to him. They are a mellow cross of thrash metal and early dance industrial (like Kraftwerk). This is clearly evident in their keyboard haven in The Only Time. Other tunes they played included Pinion, Terrible Lie, Sin, March of the Pigs, Something I can Never Have, Closer, Reptile, Wish, Suck, Burn, Down in It, Dead Souls, Help me I am in Hell, Happiness in Slavery, and Head like a Hole (which rocked the crowd).
Reznor gave his seal of approval to the festival when he said something like "When we first agreed to play this thing, I was kinda worried about it, but this is pretty cool. You're all right." I think his excessive portrayal of angst was done to shock the, what he might have assumed to be a predominantly yuppie, crowd, but then he realised the people were simply taking it all in and enjoying it. He portrayed his angry self by smashing keyboards and other equipment on stage, but I really find it hard to get into this attitude given that he was paid $250,000 for this performance. The good move on his part was that he appeared on stage covered with mud, just like the rest of us.
Compared to NIN,

Metallica sounded mellow. I think their show attracted the largest number of people (judging by crowd density at the front). They were very good and played tunes like So What, Sad but True, Wherever I May Roam, Harvester of Sorrow, Enter Sandman, For Whom the Bell Tolls, Master of Puppets, Nothing else Matters, One, and Seek and Destroy. There was a lot of pyrotechnics going on, but I was finding it a bit hard to concentrate since I was occupied with other things. Hetfield said something about us having our having our own Woodstock: "So fuckin' what?" as an introduction to So What.
Last was Aerosmith, who played a set to the rain. I do not like Aerosmith's later stuff, but they were amazing on stage! I was once again blown away by the intensity of Tyler's stage antics and the amazing tunes. I had forgotten how good Aerosmith was and this was a great reminder. They played a lot of their older stuff in a set which included Janie's got a Gun, Dude (Looks like a Lady), Walk this Way, Sweet Emotion, Love in an Elevator, Living on the Edge, Eat the Rich, Crying, and Dream On.
As Aerosmith winded down, we witnessed an amazing

fireworks display and this was an excellent way to wind things down for the day.
In a somewhat communist sense, the rich were indeed eaten at the festival. Friday night, the fences went down and the concert became free, but I doubt many people took advantage of it (at least not at once). I think there were about a 100,000 or so more people than expected, but estimates ranged from 300,000 to 500,000. I didn't mind paying since I didn't have to walk anywhere in order to get out: the bus was right there and on time. I have a neat ticket, and more importantly, I got to see all the Friday evening bands!
On the first day, we rocked hard!
We got in around 5, and got to see Jackyl performing Mental Masturbation (from the Beavis and Butthead CD). Jesse James Dupree got naked on stage. This was simply a sign of things to come. Halfway through the set, we decided to set up camp in the woods (and this was a wise idea since it was not crowded and our tents survived the rain easily). I ended up missing Del Amitri, but I got back in time to see Live play Shit Towne, Selling the Drama and a lot of tunes from Throwing Copper. Again, their set was very similar to the one they played at the WOMAD festival. I think this was a trend seen for most bands who were on the bill---they played sets that resembled their current tour (would make sense, wouldn't it?).
After Live, a barrage of incredible upcoming bands were showcased, each trying to outdo the other. This was the only time I really was up in the front rows for all the bands, and got to do some moshing and crowd-surfing (which is why my recall of these shows is vague). The crowd was much nicer (it got a bit rowdy Saturday and Sunday) and it was mostly a young crowd and we all had a good time.
James' singer Tim Booth hoped that we would all get laid. He was extremely active on stage and endeared the crowd with Sometimes and Sit Down. King's X were simply brilliant! They played tunes such as It's Love, Manic Depression, and Dogman. Sheryl Crow, the first female singer I saw, was next, and she too put on a great show, though I am completely unfamiliar with her music.
Collective Soul's name belies their music. They played some hard-hitting rock and warmed the crowd up for Candlebox. I have seen Candlebox live and my general opinion is that they suck, but again I was blown away with the way they played their tunes, most of them from their self-titled release (including Don't You, Change, Cover Me, You, and Far Behind) and one new one. The most interesting thing was that they did a medley of Hendrix tunes, which comprised of Kiss the Sky and Purple Haze, and it was all performed quite well. Hendrix would've been proud of the homage paid to him at this concert by all the artistes.
An announcement was made that Mick Jagger would be taking the stage, but it turned out to be Larry Bud Melman from the Letterman show who advised people to love the one they are with. Violent Femmes followed and it seemed like the crowd never get enough! The announcer asked us to pace ourselves, but I don't think that was necessary. The highlight of their show was when Held her in my Arms was played
Miscellaneous
The raves were on Friday and Sunday and I caught most of it between the two days. The Orb, Orbital and Dee-lite were playing, though I never figured out who was who. The Orb (which I assume went first) were excellent---they were really wild to dance to and I indulged in it for the first hour on Friday night and then I went to sleep for 8 hours. Sunday night, I got to hear the entire rave since I missed my bus to DC and had to wait until 6a to catch the bus to Baltimore. It was worth the wait and I got in more music. The techno they were playing was extremely innovative. My opinion of techno is that it is the music that counts and not the vocals, but here the vocals were excellent and the bass line, which could be heard resounding throughout the camps, augmented the vocals perfectly.
There were paintings done by artist Dennie Dent in-between sets. He did a couple of pictures of

Jimi Hendrix and

Jim Morrison (to the music of the person he was painting). The Hendrix one, depicting him playing the stratocaster with his teeth, was cool. It started off in a frontal view and then it appeared as though he had screwed up, but suddenly he turned it around and there it was---a side view! (Flip the picture around with your viewer and you'll see what I mean.)
The crowd was mostly nonblack, even though the acts were reasonably diverse. I say nonblack because there were indeed a few Asians and Orientals around. I did not meet a single black person, but I did meet people from South America, Canada, Europe, Asia, the Middle East, and Australia. In fact, I ended up sharing a piece of cardboard to shelter myself from the rain with some guy and his family who thought it was great that I was from India and so we took this picture

to show the amount of multicultural peace and love that could happen (I personally don't think it's a big deal, but apparently they had never talked to someone from India before, and I am happy for them). This family was from Ohio and was also amazed that I went to Ohio Wesleyan University for my undergrad. It's a small world.
The security was really lax. While almost all security guards were cool, I encountered exactly one power tripping security guard and one cop who obviously didn't get the "peace and love" telegram; I only felt sorry for them since they had allowed the pressure to ruin their experience. I often think about people like that, who lord it over others when given the small amount of contextual power: I sincerely hope they are happy and fulfilled but my experience is that such bitterness and pettiness only leads to more of the same - karma!
Other than that, all the hype about people being frisked completely was BS. On the bus, we were all warned about the drugs (this bothered my new found friend Adam) and that if drugs were found, we would be handed over to the state police. Once we got out of the bus, entrance into the site was unhindered. We passed through the metal detectors and that was it. Regarding the other rules: once the fences went down, nothing else mattered. It was good no alcohol was sold---I don't care what people do, but they need to be reasonable about it and in my case, I never had a problem. But some people did and if you were being a jerk, shame on you!
Unlike the media portrayal, the majority were not among the "mud people". I was a

mud person for a couple of hours Saturday afternoon and it was great while I was rolling in it, but the mud feels weird once it dries up. The storm washed me off and I didn't go back. The mud people had a direct line to the front of the stage---people would separate whenever they wanted to go through. There were a lot of boys who were naked and a lot of girls who were

top less. I have thus included one obligatory picture.
The show cannot be compared to the 1969 one, and by this I mean we simply had a bigger and a better party. Thanks to commercialisation of modern technology. There was no way anyone in 1969 could've put on a light show that Gabriel did or have the clear and lucid sound, complete with huge video screens to make sure no one missed out, both aurally and visually, a single moment on stage. The sets were all switched within five minutes, again thanks to technology. And some of the performances were in the same legendary category as Hendrix's rendition of the Star Spangled Banner (the performance by Green Day will probably never be witnessed again). We showed all the cynics that we can rock, and rock hard, in the most adverse of conditions (heck, the mud and rain made it all the more fun).
What else can I say? A lot more, but this is getting too long-winded. I have to now learn to stop saying "man" in every sentence I utter. The music was non-stop and the only respite we had from it was between the hours of 6a and 10a. This was the time you went and got cleaned up and got ready for the next day. The best way to handle such festivals is to not sleep the entire time and take close to nothing with you (I think my tent was a hindrance since I had to carry it). Nowhere else have I seen such uninhibition displayed. There wasn't any explicit sex going on from what I could tell, but a lot of people were hooking up and making out in the heat of the moment. They should have one of these every year: sex, drugs, and rock 'n' roll. As Wayne of Wayne's World would say: Party On!
My peace sign was a bit different from others: instead of two fingers and a thumb, I joined my forefinger and middle fingers, and my other two fingers. It's the Star Trek live long and prosper (which is my saying for this festival, instead of "peace") sign and I leave you with that:

Live Long and Prosper!
---
Shameless plug: check out the TWISTED HELICES (my band) page while you're here!
---
Notes
All pictures were taken with disposable cameras, which were soaked in mud when I finished. This is an account of what I saw and heard (I didn't get to see all the bands). Feel free to distribute this as widely as possible.
---
Music ramblings || Ram Samudrala || me@ram.org || August 13-15, 1994
---